Lark Jewelry & Beading is preparing to release their debut title in their Showcase 500 Series.
Showcase 500 renames and lightly redesigns their popular 500 Series.
The 2004 publication, 1000 rings has sold more than 50,000 copies !!
This release revisits the design topics and updates the contemporary style we see, almost ten years later.
Showcase 500 Rings is not a How-To book. In fact, many of the pieces may not really be functionally wearable, as you and I define wearability. However, this collection brings together an amazing representation of art that the viewer is drawn into - page by page - through the journey of the definition (or should I call it a redefinition) of the ring.
This redefinition is done in the most artful representations !!
The introduction even goes as far as explaining the definition of "clunk" as to prepare the viewer for what he/she is about to embark upon.
Be prepared to react with "Oh - that's a ring?" to the barely there gold dust on one's hands to the "You Cant Miss It" ring from Rachel Timmins (Growth One).
One of my favorites appears toward the end of the journey on pg 406. This is the "Mussorgsky" by Ian Henderson. Something about the texture, the interlocking mechanisms, and the spirals makes you want to reach into the photo & touch it !!
You can view more of Ian's work here:
Here's a pic of "Mussorgsky":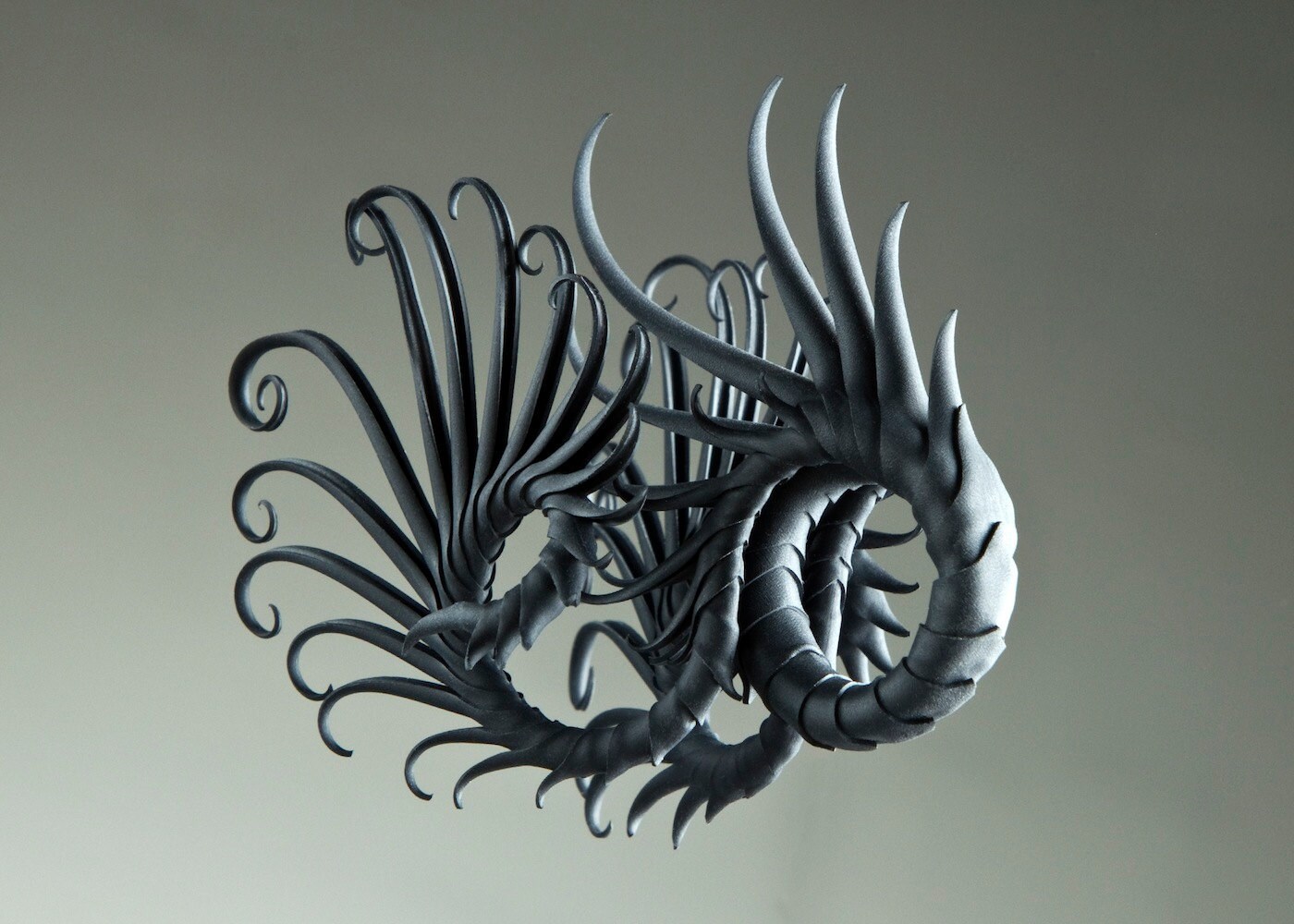 This is a true discussion book. Leave it on your coffee table, in your studio for inspiration, in your office for visitors, and even in your crafty retail store to evoke expression from the people that pick it up to view it. Even my father, in his mid-60's couldn't resist a peek and an opinion of some of the pieces.
Great job on making unique selections, Brad Metcalf !
As always, kudos to Lark Jewelry and Beading for a well put together publication for us !